Γράφει η Μαίρη Κονταρούδη-Μπαζιώνη, Οικονομολόγος – Επικοινωνιολόγος
To site https://www.artjobs.com/, που παρουσιάζεται στο κείμενο που ακολουθεί, είναι ένας χώρος που υποστηρίζει την βιομηχανία της Τέχνης σε όλες τις μορφές της και φυσικά τους πρωταγωνιστές, τους δημιουργούς αυτής.
Έχει μεγάλο ενδιαφέρον να επισκεφτείτε το χώρο αυτό, έχει πολλές πληροφορίες για διεθνή events, και το πολύ σημαντικό έχει στη λίστα του, σπουδαίους χορηγούς / ακολούθους, που παίζουν σημαντικό ρόλο στο διεθνές στερέωμα της Τέχνης. (The Design Museum, The National Gallery, Bonhams, Christies, The Telegraph κ.α.…………)
Μέσα στις δραστηριότητές του λοιπόν, περιλαμβάνει και κάνει Πρόσκληση, Open Call, κάθε μήνα στους καλλιτέχνες που επιθυμούν να λάβουν μέρος, στέλνοντας τη δουλειά, τους για να λάβουν μέρος στο Διαγωνισμό Artist of the Month.
Στο άρθρο που ακολουθεί αναφέρονται οι 5 νικητές με τα έργα τους, του μήνα Σεπτεμβρίου του 2020.
Πριν όμως προχωρήσουμε στην παρουσίαση των 5 καλλιτεχνών, θα πρέπει να παρουσιάσουμε συνοπτικά το ARTJOBS, ΄συμφωνα με αυτά που γράφει στον επίσημο ιστότοπό του (artjobs.com).
Το Artjobs.com είναι η μόνη διεθνής λίστα θέσεων εργασίας και ο μεγαλύτερος ιστότοπος "Open Calls" για τις τέχνες και τις δημιουργικές βιομηχανίες.
Η αποστολή μας όπως αναφέρει : είναι να βοηθήσουμε εταιρείες και οργανισμούς να αναπτυχθούν με τις υπηρεσίες μας και να βοηθήσουμε τους υποψηφίους μας να διασφαλίσουν το μέλλον τους στις Τέχνες και τις Δημιουργικές Βιομηχανίες. Είμαστε επίσης πολύ αφοσιωμένοι στο να βοηθούμε ανεξάρτητους καλλιτέχνες προσφέροντάς τους την ευκαιρία να προωθήσουν το έργο τους στην πλατφόρμα μας και να εξασφαλίσουμε περισσότερες ευκαιρίες.
Οι ιστότοποί μας: ArtJobs.com, DesignJobs.com, OpenCalls.com
ακολουθείται απο :

Ακολουθεί λίστα με τους 5 finalists
---
Shane Taremi
Cambridge
Unreal Reality 3
In the Unreal Reality series, an original photograph, shot on location in various international cities, is digitally blended with the elements taken from the edges of the frame to create an expanded cityscape surrounding the subject. The outward growth of frame is accomplished by utilizing the Fibonacci based sequence of numbers to produce aesthetically pleasing patterns, all originating from the edges of the frame. The project is a subjective approach to photography favoring perception over seeing. It is meant to re-invent viewer's relationship with the reality of the outside world around him/her. This deviation from the norm of realism are emphasized by these large-scale artworks, depicting urban landscapes containing spaces with vast perspectives where buildings soar above the human scale and architectural elements unique to each city produce one of a kind geometric pattern.
https://www.artjobs.com/op/artists/united-states/39305/shane-taremi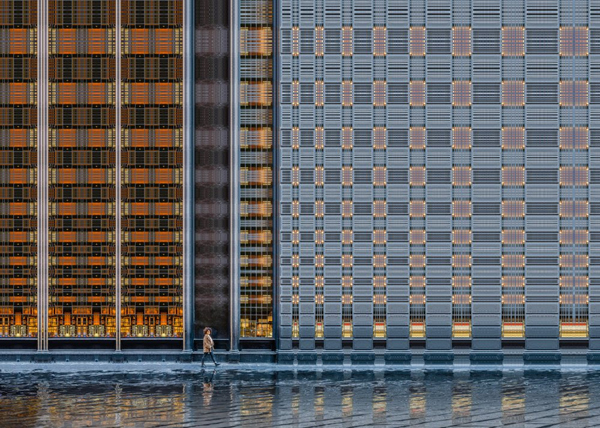 Unreal Reality 3
---
Ian Robinson
London
A painter that portrays objects such as books, records and ephemera, which behold properties that can define passions and hobbies.
Capturing scenes that interest entire generations. Glorifying their physical accumulative presence and a physical relationship with collections.
The still-life studies render a visual translation of cognitive obsessive qualities connected with ownership, that of trophies or memories, generally the intensity of meaning in our accumulation of material things.
https://www.artjobs.com/op/artists/uk/27013/ian-robinson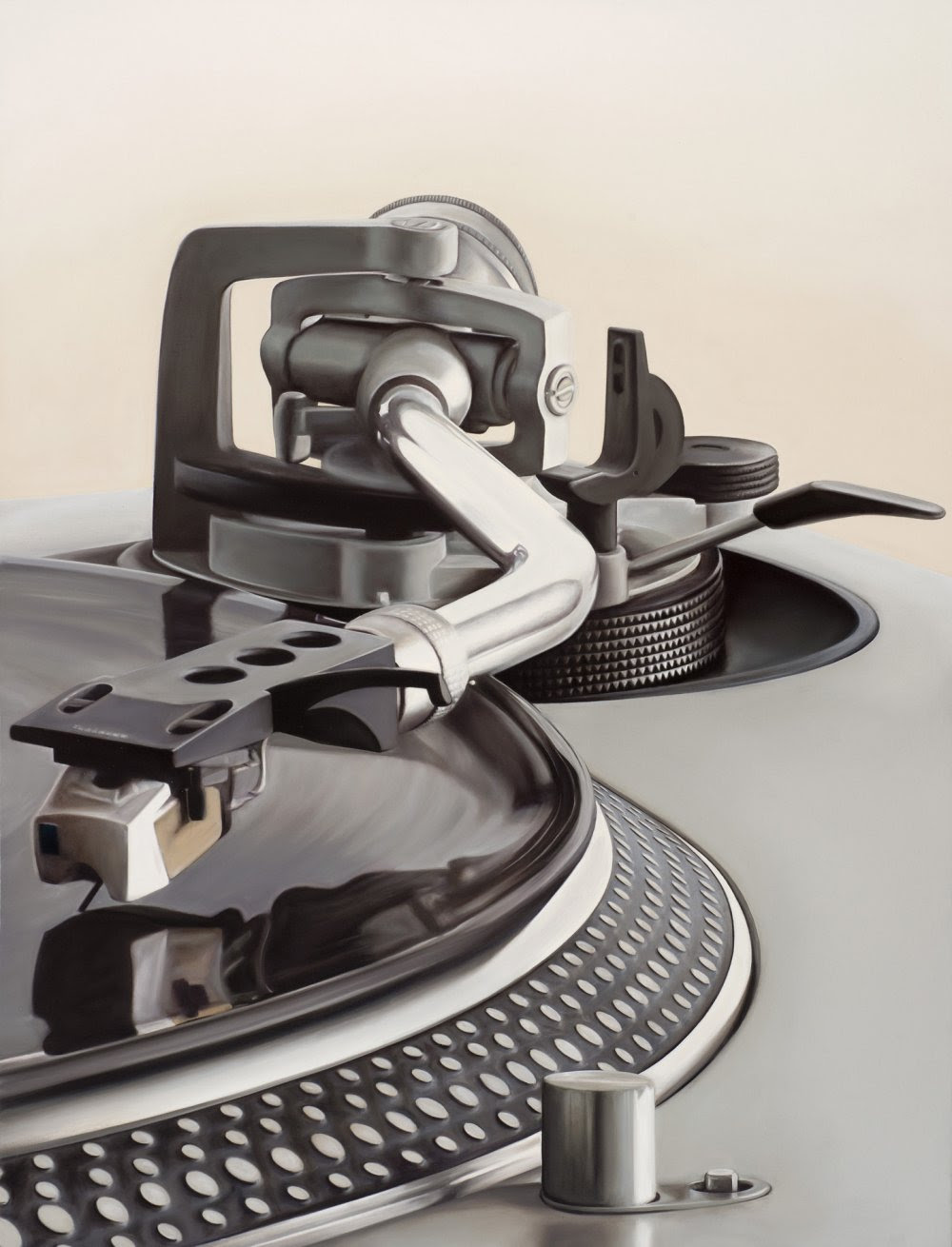 2012 ~ 125cmx 94cm ~ Oil on Canvas
---
Mariana Fabricante
London
I am an Artist and Art Director, with a passion for producing ethical work that can help shed light on serious issues using humour, responsive intelligence and compelling storytelling.
My goal is to create work that not only challenges the status quo but also helps us face the modern challenges of maintaining greater wellbeing, harmony and balance in our busy urban lives.
"Guest of Earth' questions human supremacy over Nature. It focuses on natures resilience and its capacity to adapt to climate changes and human damage.
I was inspired by the cracks in the concrete on my street where you can see the weeds and plants growing thru and reclaiming a space that was once theirs.
This prompted my research and led me to discover many buildings and ruins including the temple of Ta Prohm in Cambodia were nature embrace the human disruption and reclaimed its space.
https://www.artjobs.com/op/artists/united-kingdom/38170/mariana-fabricante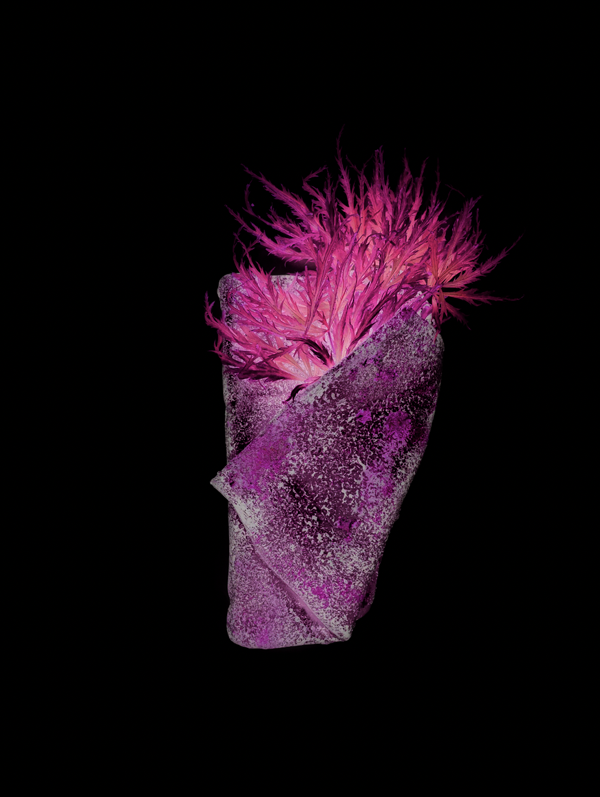 Wrap
---
Christine Olmstead
Leesburg
Christine's works are conceptual, abstract and mixed media. Her work focuses on movement, mood, and through the use of color, metallic, and reflective elements she conveys energy and story. It is through a deeply meditative practice, combined with music that she exercises her synesthesia and painting practice. Christine's paintings are conceptual in nature focusing on healing, seeking peace, restoring painful memories and infusing light and beauty into the work. Her internal landscapes portray deep emotions and rich stories. "What could be more interesting than the entire universe of thought, emotion, and sensation that exists inside of another human being?" ~ Christine Olmstead
https://www.artjobs.com/op/artists/united-states/22780/christine-olmstead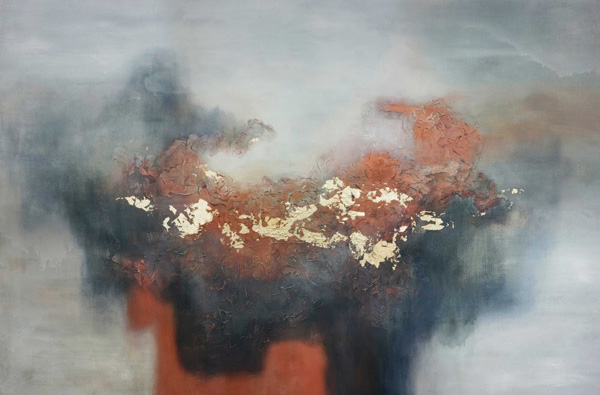 Will You Hold Me, 48"x72"
---
Hanna Hetherington
Berlin
'Bittersweet' explores the connection between reality and illusion. Driven by our obsession with image and desire, narratives are staged within a frame. This project narrates scenes of life where flawed characters search for an absolution to their desire, immersed in inner perception, in a more or less conscious state of detachment from the perceptible world. 'Bittersweet' is a staged photographic series that explores the lives of characters living within their own delusions – a reflection of material society. The photograph acts as a window to our desire and 'Bittersweet' comments on the medium of photography. The idealistic worlds projected are bittersweet, they are worlds that are dreamt of but can never truly be obtained – the audience is privileged a keyhole view, as they peer into another world, and what is witnessed is the synthesis that manifests between the viewer and viewed, between external perception and reality.
https://www.artjobs.com/op/artists/germany/23881/hanna-hetherington